So after the digital pickups now Gibson is releasing an auto-tuning guitar. Great. This does seem like a big deal and I do like it that Gibson is trying to pair modern technology with high quality craftsmanship and vintage design, yet the name, website and associated marketing videos are utterly ridiculous. Do they really think that guitarists are 8 year old retards that would find this kind of promotional material appealing? Ok, they clearly do. Are they? :)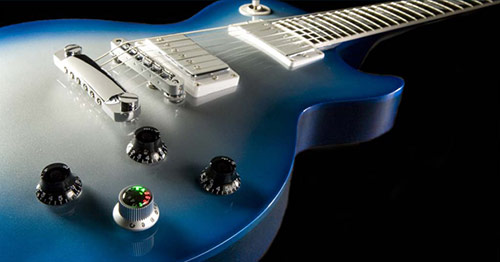 The marketing literature even goes as far as comparing the future value of this limited edition auto-tuning LesPaul to that of a number of legendary guitars including the 1959 Standard; what a sacrilege! The overall presentation goes a long way against maintaining Gibson's respectable image among musicians.
Still, when the limited run disappears and this becomes a standard feature of Gibsons I'm sure many people will be happier. I know I would if I had one.
Image courtesy of Gibson Guitar Corporation.
Some of the content/imagery/multimedia in this article is used in accordance with U.S. fair use doctrine or equivalent in other jurisdictions.