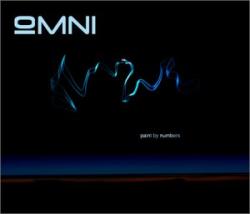 Long before MySpace became the de facto platform for music exploration, there were earlier attempts at creating the infrastructure required for people to explore, find and listen to independent music online. Two of these attempts were (and still are) Purevolume and Garageband.com.
It was on one of these two sites where I discovered OMNI in late 2002. Soliloquy, their instrumental track off their first album, Paint By Numbers, was mesmerising. Porcelain, another track from their first album was also offered online on mp3. Two good tracks were enough to me to decide to look into the band a bit further.

Work, travels, the daily grind, computer upgrades and the return to Hellas prevented me from contacting OMNI and getting hold of their album for many years — it was pretty hard to find anyway — until earlier this year when I stumbled on 'Soliloquy', left in an ageing hard disk I hadn't used for a while. A few minutes, a visit to their site and some clicks later I had ordered their first album, Paint By Numbers' as well as theri latest release, 'Ghosts' (slated for release later this month). This is the cosmix.org review of the first, now six-year old, album.
Pain By Numbers is an amalgam of technically proficient experimental rock and the alternative æsthetics in a way that doesn't bring memories of pointless technical excess (viz. Vai, Satriani) or complete lack of meaning/soul (viz. Dream Theater), but remains balanced and engaging throughout. On their Garageband page, OMNI cite The Police, Faith No More, King Crimson and Tool as influences. I'd definitely add Primus, Kevin Moore and perhaps Peter Gabriel as artists whose music seems to have several things in common with OMNI's.
The album is relatively short (around 35 minutes) and begins with the eponymous track, Paint By Numbers, characteristically representative of OMNI's rich drum and bass patterns and heavy rhythm guitar 'walls', accompanied by Hans Twite's mellow vocals (Twite's abilities as a vocalist was a topic of discussion among friends, as some felt that his performance on Paint By Numbers kept the band back — I wouldn't be so categorical, but anyway, he left OMNI some years after the release of the first album). Æsthetically, the track resembles Porcelain and C, with its downtempo and moody atmosphere. Every Day, is a heavier track — it really brought back memories of Therapy?, The Smiths as well as the Pixies at times. Inward, an ambient instrumental track, develops around a guitar arpeggio melody and an edgy drum accompaniment. Capture is perhaps closer to late 1990s Tool than any other track by OMNI and a clear testament to the band's influence on OMNI; I found it somewhat unoriginal, yet pleasant. The album closes with Release, a slow moody song stylistically similar to Porcelain and Soliloquy an immensely beautiful ambient instrumental track that was more or less the reason I decided to pay more attention to OMNI in the first place.
Overall the album, while not exceptional or especially fresh, is an excellent first release by a promising band that remains firmly rooted within a timeless genre of music few artists manage to perceive and embody in their work.
OMNI's music and skills have evolved beyond the early, at times awkward musical expressions presented within Paint By Numbers — check their site for streaming versions of some of the tracks from Ghosts or just pre-order the album. I am looking forward to their music in the future.
You can find OMNI online at:
OMNI Official Site
OMNI on MySpace
OMNI on Garageband with several tracks from Paint By Numbers.
Some of the content/imagery/multimedia in this article is used in accordance with U.S. fair use doctrine or equivalent in other jurisdictions.