---
---
» Hard Drive Data Recovery Talks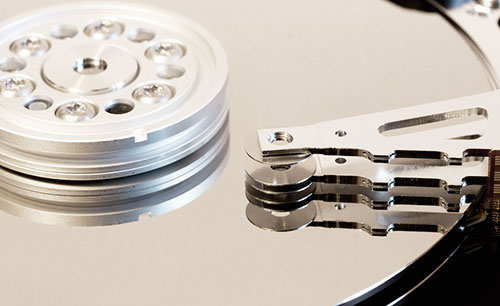 Excellent talks on hard drive data recovery by computer forensics and data recovery specialist Scott Moulton, for those that feel confident messing with their hardware. Extremely informative and very useful especially in those cases where you'd like to salvage your data from a broken drive, but don't want to shell out ~€2,000 for a professional data recovery company to do it.
Two lectures, one from DEFCON 14 (2006) and another from 15 (2007). There's some overlap, but they're both interesting to watch nevertheless. Around 45 minutes each.
Hard Drive Recovery (at DEFCON 14): Parts 1, 2, 3, 4, 5
Advanced Hard Drive Data Recovery (at DEFCON 15): Parts 1, 2, 3, 4, 5
Image by Flickr/Roberto F. Used under Creative Commons BA-NC-ND licence
---
2008.05.01
In a few weeks my laptop will be 4.5 years old. And for all intents and purposes it still holds its own pretty well for practically everything, but the most CPU-intensive tasks. Tasks that I typically perform on much faster desktop machines anyway.
Some weeks ago the laptop, a 2003 17″ Apple Powerbook G4, started exhibiting pretty weird symptoms: the laptop would intermittently 'lose' the AC adaptor, or it would stop charging. This would happen at different times, without any movement of the device or the power brick. There were times I left the laptop on all night on battery power and connected to the AC adaptor, only to find the battery completely drained and the laptop in a weird power state — not completely off, not sleeping, but certainly not charging either.
I was initially very perplexed by this behaviour and was ready to write the laptop off — it is ageing and I have been meaning to replace it for a long time, although I never quite found a good reason for doing so until now.
»
---
Arduino
I foresee countless hours of fun with this. I'll try to find one or — if I don't — I'll build a board over Xmas. If only my undergrad PIC/digital design courses were that much fun. Check out the video from Makezine for a short introduction.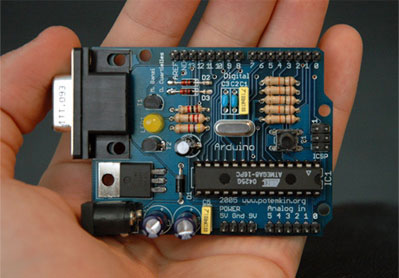 Photo by Nicholas Zambetti. Taken from arduino.cc
4