---
---
Bye bye Last.fm
It's not that they are asking for money to keep themselves going. No, they are — and have been for a time — owned by CBS. It's not even that they put it like this on their blog ("promise that we'll be hard at work improving the service for years to come."), but it's mostly that they are so keen to discriminate, they've been doing it for a while (see geographically-limited iPhone app, geographically-limited free radio service etc.) and now they will make their service unattainable for so many worldwide.
Pandora was the better of the two services. Last.fm was the more 'decent' one (socially) and apparently the savviest one from a business point of view as it managed to keep the service available worldwide for longer. The change to Last.fm radio will probably mean the end of the service for many users outside of the three countries that will keep enjoying it for free. For me, I guess my subscription will not be renewed.
---
2008.08.30
I regularly listen to last.fm radio stations, be it from my friends, neighbours or people that I stumble upon by checking out groups that may interest me.
One of the problems I've noticed is that music that Last.fm serves over its radio is sometimes mistagged; the problem is that the Last.fm software seems to identify this, but does nothing other than inform you that this is the case. Somewhat ironic, given that Last.fm is serving this music. Check out the screenshot below, from the Last.fm client playing the 'Dance of the Blessed Spirits' by Christoph Willibald Gluck. That's the 'baroque' tag 'radio station'.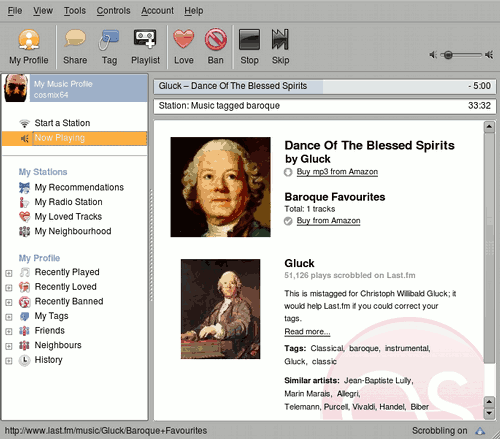 This is not an isolated occurrence. I ran into the problem twice in the few minutes it took me to write this post. Which begs the question:

Where does Last.fm get the music it's serving to its users? I thought the company had agreements with most of the mainstream record companies and a bunch of indies and that's where it got hold of the music. Wouldn't this mean that they have all the necessary meta-data in place when they stream audio over their 'radio' stations? It makes no sense for last.fm to serve music with bad tags, let alone advise its users to keep their tags clean in the process.