I admit it. I've liked microsoft's split 'ergonomic' keyboards ever since they came out in the mid 90s. I had the original one. I loved the design, hated the feel. A couple of years later I replaced it with the smaller, more elegant Elite version that had the botched 'cross' arrangement for the arrow keys. I didn't really mind this peculiarity. The keyboard is still in use and is still excellent in all ways possible. The feel was and still is great.
About a year ago I got the 4000 model for my main linux dev. machine. It was ok, with acceptable feel and the typical clutter of useless keys that Microsoft keyboards typically feature these days (most of them work fine in linux).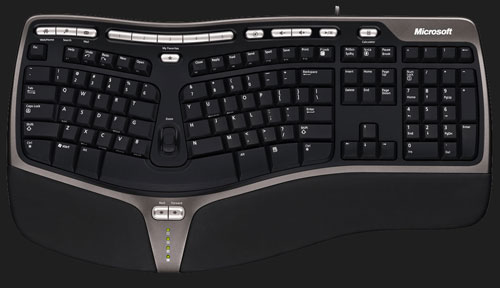 Since I've been in the market for a new Mac keyboard, and getting increasingly frustrated with my almost 2 year old Apple Wireless it's-not-really-a-keyboard-but-a-sponge-with-keys-on-it that makes my hands suffer after a mere hour of use, I scoured the web — for the third time in a few months — for Hellenic online retailers that might stock interesting keyboards. After about an hour's search I was left with the usual choices of either painfully expensive keyboards that were often immediately available or low-travel-laptop-type keyboards that I would probably not like and would cost a lot anyway.
So I ended up getting yet-another Natural Ergonomic Keyboard 4000. I thought "I already have one, I know it's decent, it's price is ok and it's not wireless!". Was it worth the €45 I paid for it? I guess it kind of does. But, as others have found from what I can see online, it suffers from a common problem with this model: the dreaded rattling spacebar. A manufacturing flaw, or rather imperfection, seemingly present in many of these keyboards, makes the spacebar rattle. And when I say rattle I mean it rattles a lot. Most, if not all, of the keys on this keyboard are quiet and have a decent feel except for the spacebar: it is stiff, noisy and rattles. Someone, on some forum of some sort, suggested bending the metal clip with pliers. I doubt this would work without significantly affecting the feel of the spacebar (at least on mine). I placed a small piece of paper as a buffer between the clip and its base and it got a bit better. Ah, the wonders of 'high technology'.
Next time I think I'll try a Sun Type VI USB. The problem is you can only get them on eBay and that's not something I particularly like.
But it's disconcerting. Do we really have to pay €200 for a real good keyboard nowadays?