Browser
Browser causes four suboptions to appear: Sounds, Attributes, Search and Results. Presets in Guitar Rig 3 are classified by Category and then by Bank. The available Categories shipping with Guitar Rig 3 are: Guitar Amps, Bass Amps, Artist Sounds, Signature Sounds, Styles, FX, Live and My sounds. Each has its own list of banks and each bank can have up to 128 sound presets.
Attributes presents information about the selected preset, as well as Style, Tone and Instrument tags that help the user quickly find presets.
Search allows the user to search for presets by name, author, category, date of modification, and any of the style, tone or instrument tags. The results option displays the search results for the last search. The search is faster than that found in GR2, but it's still a bit clumsy in terms of keystrokes (e.g. pressing the 'Return' key doesn't start the search).
Components
The Components button turns the left pane into a graphical list of all the components (classified by their type: amplifiers, distortion units, modulation units, EQ, volume control units, reverb units, the loop machine, chain splitter and crossover mixer tools and the modifier units introduced in GR2). Below the list there is a small screenshot of the selected component along with a short description.
Finally the Options button selects the controller setup and preferences pane. While Guitar Rig 3 is improved compared to its predecessor with regards to usability, Preferences are still split between the ones found in the Options pane and those found under the 'Guitar Rig 3' application menu. It would have been much better if all preferences for the application were concentrated in one place, not two.
Live View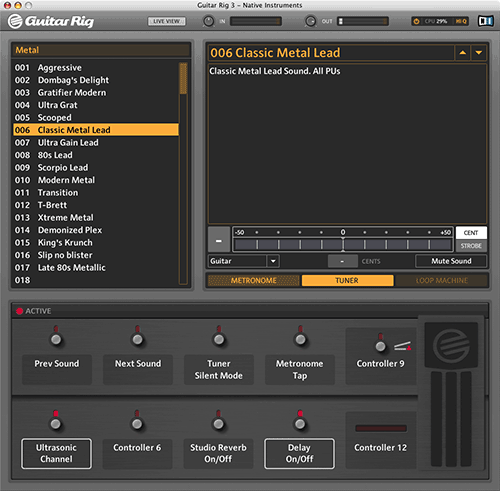 With some high profile musicians already open minded enough to use Guitar Rig at gigs NI seems intent on making the application more friendly to those using it on stage. The 'Live View' found on the toolbar provides just that: a user interface that is clean, simple and enlarged, suitable for use by someone on a dark stage. The interface includes a simplified preset list of the current bank, a tuner, metronome or loop machine (selectable) and a view of the controller where the user can also configure each of the switches and pedal.
Performance
Guitar Rig 3 is making efficient use of the available hardware. This much is obvious by the relatively low CPU usage even on slower machines even with complex sonic chains. A three year old Powerbook at the normal quality setting can pretty much handle everything you can throw at it, with the exceptions of a couple of presets that required considerably more processing power and caused jittery output. Anyone with any Intel Mac or recent Windows PC should be ok even at High Quality and no matter what you throw at it. If you don't have a NI foot controller, you should get yourself a high quality external (Firewire or USB2.0) audio interface with proper instrument inputs for guitars. Don't try using Guitar Rig with your old Sound Blaster Live! or equivalent, unless you know what you're doing and have the proper low-latency drivers, a DI box etc. In our tests we used GR3 with some external USB interfaces by M-Audio and the Rig Kontrol 1 and 2 and had no problems with latency or audio quality.
Audio Quality and Presets
The audio quality in Guitar Rig 3 is marginally improved from GR2 and is --- in many cases --- indistinguishable from the original amps and effects. The overhauled interface, and especially the completely revamped preset list are responsible for the perception that this version is superior to the one before it: Guitar Rig 2 suffered from relatively mediocre presets and its intuitive, yet complex interface meant that it could take hours before a user could truly take advantage of its features. Guitar Rig 3 offers some spectacularly improved factory presets that mimic well known styles, artists and signature sounds.
Concluding remarks
Overall, Guitar Rig 3 is an evolutionary step forward compared to the previous version. Its highlights are the new user interface that includes a Live View for those using the application on stage, the four new amps that enhance its tonal range filling most of the gaps in previous versions and some interesting new effects that together present a very rich and powerful tonal palette. If Guitar Rig 1 was a revolutionary product and 2 a worthy successor with numerous interesting features and improved quality, Guitar Rig 3 presents an offering that, while not radically different from its predecessor offers a much more mature and polished experience for the guitarist. For those already owning Guitar Rig 2, I would recommend getting the software only upgrade --- the Rig Kontrol 2 is still pretty decent for most of us and the price is pretty low. Those with Guitar Rig 1 would probably benefit from the full ('Kontrol') version, but could use any MIDI controller or the Rig Kontrol 1. For everyone else, Guitar Rig 3 is a very highly recommended product. Unless you've got tons of vintage, high-end gear and a place to use it, GR3 is the best thing out there for guitarists and a truly liberating tool that successfully replaces practically everything you need to make music. Except your guitar, that is.
This is an independent review by cosmix.org. The author is not affiliated with Native Instruments or any other company promoting NI products.
View page: 1 2
Some of the content/imagery/multimedia in this article is used in accordance with U.S. fair use doctrine or equivalent in other jurisdictions.