Two years after Guitar Rig 3 was released in autumn 2007, the fourth iteration of the software modelling application for guitarists was released by Native Instruments. This time around a combination of an ever increasing workload, little free time and the fact that Guitar Rig 3 was 'good enough' for my needs meant it took me a while before deciding to buy Guitar Rig 4.
A special offer by Native Instruments landing in my email inbox a few weeks ago, some free time to play the guitar — after weeks of not touching it — and the ease of buying software online meant that Guitar Rig 4 was running on my MacBook Pro in no time.
This release is the first one that dropped support for Power PC Macintosh computers, around three and a half years after Apple stopped selling them. There is no good reason for this change, Guitar Rig 4 would run comfortably on PowerMac G5s and maybe even the last generation of PowerPC-based iMacs.

Guitar Rig 4 comes in a number of editions: Pro (which is the full application), Essential (which is a cut down version with fewer amps, effects etc.), Mobile (which is a version that includes Essential and a 24bit/192KHz mobile interface for those on the road) and Kontrol (the version that includes Pro and the Rig Kontrol 3 audio interface/floorpedal). I got the Pro version, as I don't need anything else (I still use my old Rig Kontrol 2 from Guitar Rig 2 and it works fine for me). The Pro version costs €179 (for the full version) and €69 (upgrade).
What's New
New Effects and Amps.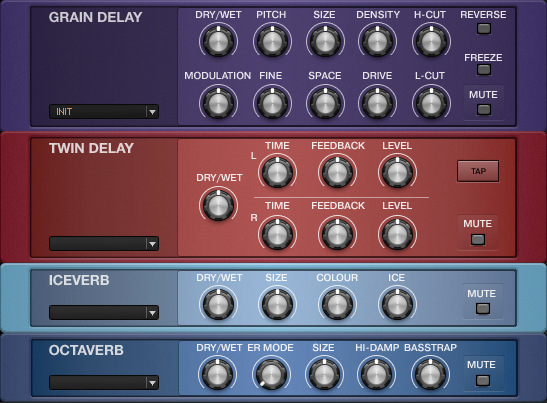 Guitar Rig 4 comes with 3 new amplifiers (HotPlex, a gain-boosted version of Plexi, Jump, a smoother version of Lead800 and CoolPlex, an amp bringin you 'sparkling, vintage' sound) and 4 new effects (Grain Delay, Twin Delay, Octaverb and Iceverb). But perhaps the most interesting addition is "Control Room", a brand new feature that provides yet another way to control your signal.
Control Room
Guitar Rig 2 introduced Cabinets and Mics which allowed a custom selection of cabinets and mics, position of the mics, ambient (room) ratio, EQ etc. Guitar Rig 3 brought Matched Cabinet, a convenience feature that made it easier to forget about the whole cabinet and mic thing and get 'stock' sounds easily without much experimentation.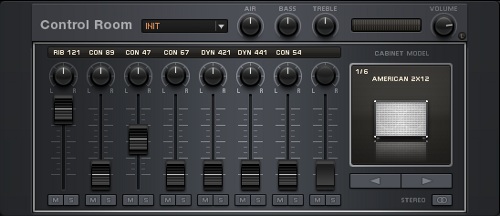 Guitar Rig 4 brings Control Room, as a 'best of both worlds' feature: you get some true and tried production setups (vintage cabinets, mics and 'sweet spots') and you get to control multiple chains easily through a number of faders, without worrying about phase, position etc. Something like having your own professional sound engineer giving you a number of 'preset' setups that she likes that you can combine anyway you like. It's a great feature for home users and semi-pros that don't record professionally and crave for that 'big studio' sound.
The new version comes with around 250 brand new presets; the preset browser has been redesigned (it was about time) and I find the choice of provided presets much improved (you can also easily 'import' the old Guitar Rig 3 presets if you liked them, of course).
Conclusion
Overall while Guitar Rig 4 seems to add little to an already excellent software guitar studio suite, I noticed a significantly improved sound quality (in part due to Control Room) and a pleasantly revamped user interface that will certainly make the use of the application easier and more fun. If you're happy with Guitar Rig 3, uninterested about the new features, or if you still use a PowerPC Macintosh, you could skip this version and wait for the next one; for those seeking the best in terms of sonic quality, performance and willing to shell out for the latest and greatest, Guitar Rig 4 is a solid upgrade for those things that matter most: sound quality and ease of use.
This is the independent cosmix.org review of Native Instruments Guitar Rig 4 Pro. I am not affiliated withj Native Instruments in any way other than being their customer.